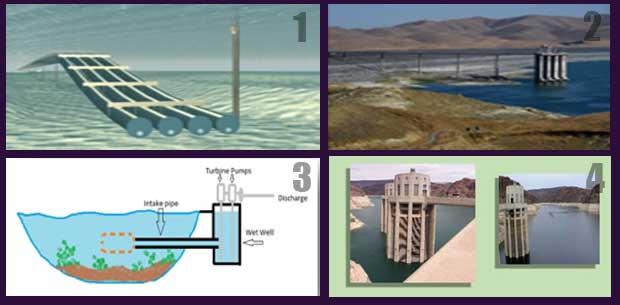 A device or a structure that is constructed at the water source for drawing water from the source and conveying to the other components of the water supply system is termed as intake structure or simply "Intake". An intake structure consist of two sections- 1) intake conduit with screen at inlet end and valve to control the flow of water and 2) the structure permitting the withdrawal of water from source and housing and supporting intake conduit, valves, pumps etc. The structure is constructed watertight with stone masonry or brick masonry, R.C.C, or concrete blocks. The intake is designed in such a way that it resist all forces likely to come upon it including the pressures due to water, wave action, wind, floating debris, annual rainfall, geological formations.
Site selection of Intake Structures
There are certain factors which affects the site selection of intakes. They are listed below:
Location
The intake should be constructed in the upstream side.
The intake should never be located in the curves in river.
The intake should never be constructed near the navigation channel.
The intake should be constructed such that it is accessible during flood.
The site must be well connected by good approach of roads.
The location of intake regarding the sources of pollution need to be considered.
Quantity
The intake should be constructed such that sufficient withdrawal of water is permitted to meet the demand of the population.
The intake must be capable to fulfill the expansion water works.
Quality
Purer zone of the source must be selected for intake construction.
Economy
For the reduction in system cost the intake site is selected near the treatment plant.
Classification of Intake Structures
Intake structures may be categorized into following four types:
Wet Intake: The water level of intake tower is practically the same as that of the water level of sources of supply in wet intake. It is also known as jack well.
Exposed Intake: Exposed intakes are in the form of oil or tower constructed near the bank of river, or in some cases even away from the bank of river and are common due to ease in its operation.
Submerged Intake: Those intakes that are constructed entirely under water are termed as submerged intakes. Submerged intake structures are commonly used to obtain water from lakes.
Dry Intake: There is no water in the water tower in the case of dry intake. Water enters through the port directly into the conveying pipes. In this type of intake the dry tower is simply used for the operation of valves.