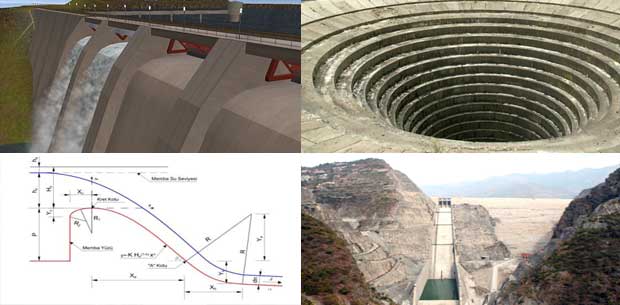 Spillway is one of the structural component of dam that spills the water back into the river so that the water does not harm the dam. There are different types of spillways. Some of them are listed below:
Types of Spillway
In general spillways can be classified into two parts as overflow & channel type on the basis of where it is placed. These two major types of spillways are further classified into sub-categories which are explained below:
Overflow type spillway
The Overflow type spillway is the integral part of the dam and functions as per the dam but lets the water flow over it risk-free. The best example of overflow type spillway is Ogee Spillway.
The discharge calculation formula for the Ogee Spillway is:
Q=CLHe3/2
where,
C= f (P, He/H0, θ, downstream submergence)
L= effective width of spillway crest
He= total energy head over crest
Ho= design energy head over crest
Effective width of spillway crest in design is calculated as:
L =L'-2(N Kp+ Ka) He
where,
L'=net width of crest
N=number of piers
Kp= pier contraction coefficient
Ka= abutment contraction coefficient
Channel type spillway
It is the type of spillway that is isolated from the dam. There are different channel type spillways in use. Some of them are explained below in brief: